Redfin, a U.S based real estate brokerage, recently published the results of their in-house study which showed that across the U.S., vacant homes sell for less money and spend six more days on the market than comparable occupied homes. The study compared the sale prices and time spent on the market for home listings that were marked vacant at the time they were sold with those that were not. Only metro areas where the listings for at least 70 percent of homes sold in 2018 were clearly marked as either vacant or not vacant were included in the study.
"Although vacant homes are easy for buyers to tour at their convenience, the fact that the sellers have already moved on is often a signal to buyers that they can take their time
making an offer," said Redfin chief economist Daryl Fairweather.
Many buyers find it difficult to visualize the full potential of a home when it is vacant. Staging or virtually staging a vacant home will help many buyers see how layout and rooms may function for their own needs.  Staging involves hiring a company to bring and arrange furniture in the home to showcase its potential to buyers. Staging can be particularly beneficial for homes with open spaces or unusual layouts, where buyers most often need help to see how furniture could be arranged. Professional staging can cost several thousand dollars, depending on the number of rooms staged and the length of time. Virtual staging can provide a cost-effective option for vacant homes and provides a realistic view of what the vacant home can look like fully furnished. With over 90% of buyers looking online before setting foot into a house, virtual staging can increase the number of buyers who choose to view the home in person.
Staging a home also provides a certain ambiance that can not be achieved in a vacant home. Staging can be targeted to specific buyers most likely to purchase that particular home. Staging a home for sale has become standard business in the real estate market and for good reason.
Before staging: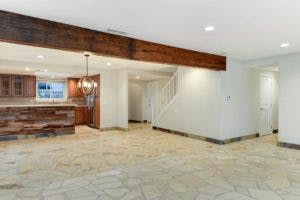 After staging: